Air Flow Dryer
---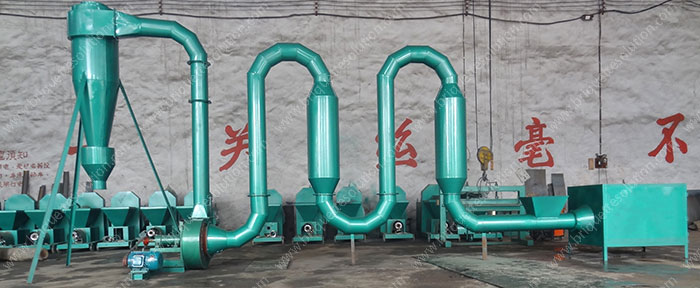 Air flow dryer or flash dryer is an ideal drying machine for fine materials. The most common usage for this dryer is drying wood sawdust.
Structure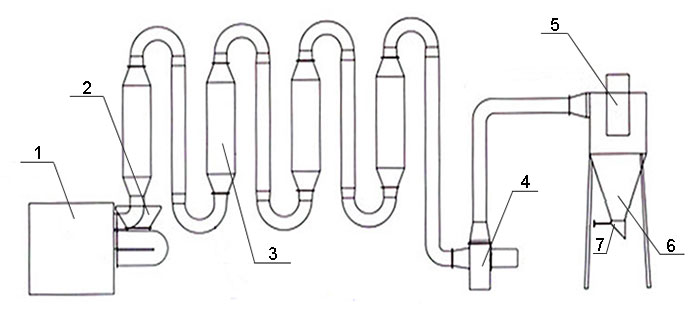 1. Heating furnace
2. Feeding hopper
3. Buffer
4. ID fan
5. Exhaust ouput
6. Cyclone
7. Outlet &air lock
Working principle
The furnace produces large volume of hot air which is sucked and moved through steel tube by an ID fan. Fast moving hot air sustains and mix with our material, moisture evaporates as the material traverses along the steel tube and output the dried material at the discharge.
Material
These following material has been proved can be used in the air flow dryer: starch, glucose, fishmeal dust, granulated sugar, sugar, lees, feed, gluten, plastic resin, coal dust, dyes, etc.
Material requirement
1.Can be transported by air flow;
2.Material auto dispersion when transported in the tube;
3.Low viscosity, won't stick on tube;
4.Low hardness

Ideal dryer for small capacity
When we dry our raw materials, such as wood sawdust, bamboo dust, etc. Normally we have two choices, air flow dryer or rotary drum dryer. But for small capacities, we usually choose air flow dryer rather than rotary drum dryer for the following reasons.
1. Flash drying.
Material stays in the air flow dryer for a short time on drying, mainly 0.5-5 seconds on drying process, compare to which the rotary dryer is 4min to 1hour.
2. Small space requirement
Air flow dryer requires less space and the raw material entrance is low, you can even feed the material without conveyor.
3. Low investment
The air flow dryer is much cheaper than rotary dryer in small capacities.
Feature
1.Material dispersion makes high heat transfer coefficient up to 60%;
2.Parallel flow, even high temperature air can be used;
3.Wide applicability, particle size up to 10mm, moisture between 10-40%;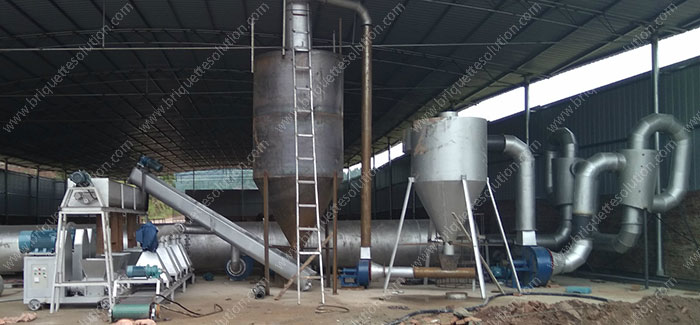 Our air flow dryer working in a screw briquette plant
Parameter
| | | | |
| --- | --- | --- | --- |
| Model | Feed Inlet Size (mm) | Power (kw) | Capacity (kg/h) |
| YKAD 250 | ≤5 | 4 | 100-300 |
| YKAD 300 | ≤5 | 7.5 | 300-500 |
| YKAD350 | ≤5 | 11 | 500-700 |
| YKAD400 | ≤5 | 15 | 700-1000 |