Wood Sawdust Briquette Machine Guideline
---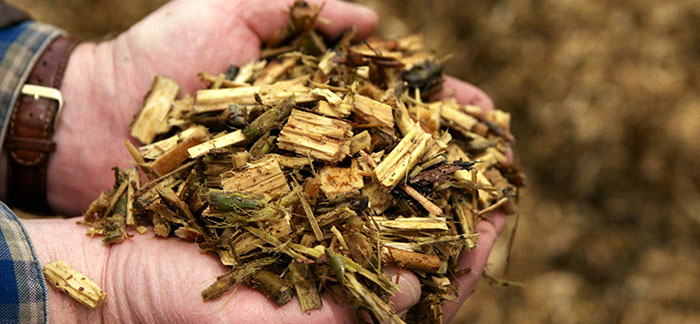 Wood sawdust is a kind of biomass from the wood and timber industry which is the commonest typical biomass waste.
Why wood sawdust briquette
Compared to the agricultural raw material, wood sawdust has a lower ash content, lower risks of corrosion and dirtying, requires high temperatures of ash deformation (>1200ºC) and also requires no additives or thickeners to increase production costs since humidity and the actual wood lignin work as a natural adhesive.
Wood is a renewable resource, but conservation is essential to sustainable forestry and environmental protection.
Where are the wood and sawdust coming  from
Wood waste comes from both commercial and residential activities
scrap lumber, pallets, tree stumps, branches, bark and twigs.
Sawdust probably comes from the woodworking operations
such as sawing, milling, planning, routing, drilling and sanding.
Pay attention to the raw material
Before making the briquette, raw materials should be adjusted to meet the requirement of the briquette machine, two important factors should be paid attention to.
Moisture
12% ~16%, in order to make high quality briquette, this is certain moisture range should be followed up strictly. Though this doesn't mean briquette cannot be made out the range.
Moisture will reduce the quality of the briquette, high moisture will make the briquette with cracks and a low density, low moisture leads the briquette loose, with a rough surface and hard to be made.
Size
For different briquette machines, the requirement is different as well, for us, a material size below 5mm is an ideal choice for making high quality briquette with high density and easy to choose a machine. But don't worry if you have some wood chips in, using a log briquette maker will make the size range rough, the wood chips below 30mm all can be briquette with the log maker. If all of your material is wood chips, wood chip compactor is your best choice.

How the briquette is made without binder
The main body of the wood is made up of cellulose, hemicellulose and lignin. The cellulose gives the wood mechanical strength and toughness, lignin is bonding fibers inside the plant, and hemicellulose is a bridge to connect the cellulose and lignin together.
When the wood sawdust is making, the briquette pressure (or may also involve to other heating systems) causes the raw material's temperature rise. The lignin becomes soft and has the ability to bind the wood sawdust together.
Wood sawdust has a lignin content bigger than other biomass materials, and with less ash content, thus made the briquette with higher quality.
| | | | | |
| --- | --- | --- | --- | --- |
| | lignin | cellulose | hemicellulose | ash content |
| wood sawdust (%) | 20 | 39 | 34 | 0.3 |
| wheat straw (%) | 17 | 40 | 28 | 3 |
| rice straw (%) | 12 | 32 | 25 | 13 |
Wood sawdust briquette plant diagram

Wood sawdust briquette machine for sale – find the suitable one
---
Screw bio briquettes machine
Briquette shape: Hexagonal column, Square column, etc. (with a hole in the middle)
Briquette size: 30-80 mm (in diameter)
Capacity per set: 100-350 kg
The screw bio briquettes machine is used to make sawdust briquette in an economy way,  the machine is with a low price and thanks to the heating system, it enables working in a low pressure which helps a low running cost. The heating temperature not only soft the lignin, but in another word, that is "melt", the briquette is with high strength and also an ideal briquette for making charcoal. This is where the wood sawdust charcoal briquette from.
Sawdust briquette from screw bio briquettes machine

Find specification for screw bio briquettes machine here
---
Log briquette maker 
Briquette shape: Cylinder, Hexagonal column, Square column, etc.
Briquette size: 6mm to 85mm (in diameter)
Capacity per set: 0.5-2 ton
Log briquette maker is an ideal briquette machine now for the industry. It is with a mechanical briquetting system which supplies a high capacity and low maintenance. Flexible with the briquette size by only change the die. The rough range for raw material size as well as the moisture.
Wood sawdust briquette from log briquette maker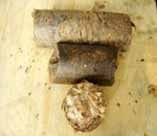 sawdust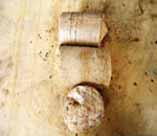 wood shaving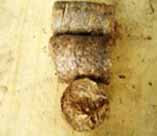 bark
Find specification for Log briquette maker here
---
Biomass brick briquetter 
Briquette shape: octagon, round, hexagon, etc.
Briquette size: round diameter around 50-80 mm, other shapes around 150*70*70 mm.
Capacity per set: 0.12 ton/h
Biomass brick briquetter is suitable for making brick briquette with sawdust, the hydraulic system makes the briquette with high density. The brick is also a popular product in the market. The machine is easy to control with PLC system or manual work.
Sawdust briquette from biomass brick briquetter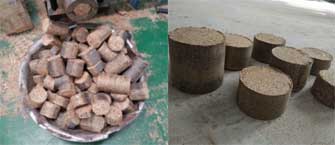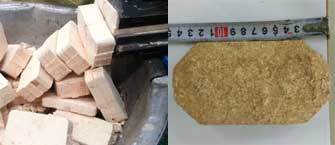 Find specification for biomass brick briquetter here
---
Wood chip compactor
Briquette shape: cuboid
Briquette size: 420*350 (mm)
Capacity per set: 120 bags/min
Wood chip compactor brings a way easily to storage and transports the wood chips, the bale is very stable because of its high pressure. It works with a high compression speed makes the machine with high efficiency.
Wood chips compacted by wood chip compactor

Find specification for wood sawdust compactor here