Screw Bio Briquettes Machine
---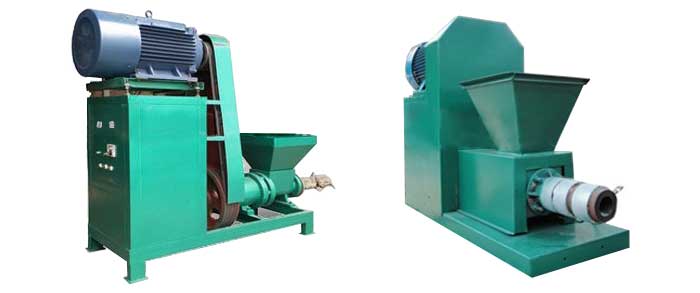 What is a screw bio briquettes machine
Screw bio briquettes machine is a kind of briquette machine used to briquette biomass materials with stick shape. As the briquette is usually used to make charcoal, so it also has another common name charcoal briquette machine.
Material
Following are some of the materials can be used in screw briquetting machine:
Wood shaving
Branch
Peanut shell
Corn stalks
Bamboo dust
Bagasse residue
Coconut shell
Coffee husk
Cotton stalk
Tobacco waste
Jute waste
Tea waste
Wheat straw
Palm husk
Soybeans husk
All kinds of agro waste
How the briquette is made
For answering this question, first let's find the structure of the screw bio briquettes machine below: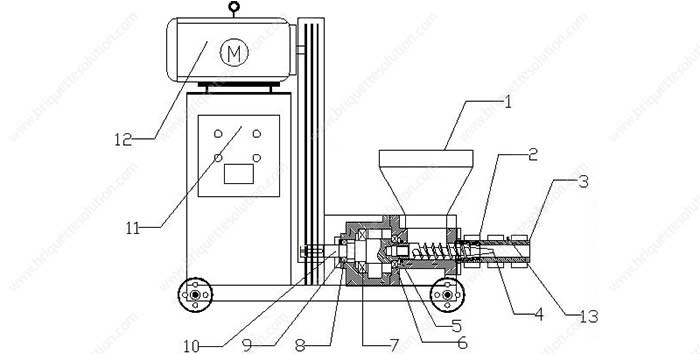 1. Charging hopper 2. Heating rings 3. Shaping drum 4. Screw Shaft 5,9. Oil seal 6,7,8. Bearing 10. Spindle 11.Electric control board 12. Motor 13. Sensor
The working process is as follow:
The whole briquette process is to compress the raw material under high pressure and high temperature. The machine uses a large screw to grind, compress and extrude the biomass into briquettes. The self bonding of biomass to form a briquette involves the thermo-plastic flow of the biomass. The natural lignin content in biomass is liberated under high pressure and temperature(200-300°C). Lignin serves as the glue in the briquette process, binds the particles of biomass together, thus binding, compressing the biomass to form into high density briquettes.
A briquette process without binder
The briquette is much pure, clean and green fuel as we use the natural lignin to make the briquette without any other materials.
Requirement for raw materials.
Size: less than 5mm;
Moisture: 6-12%; If the moisture is less than 6%, the briquette will with lower strength as the viscosity and the conversion of raw materials is in low level. Besides, if the moisture is more than 12%, the briquette will be soft and always with crackles, also with a low density.
Final product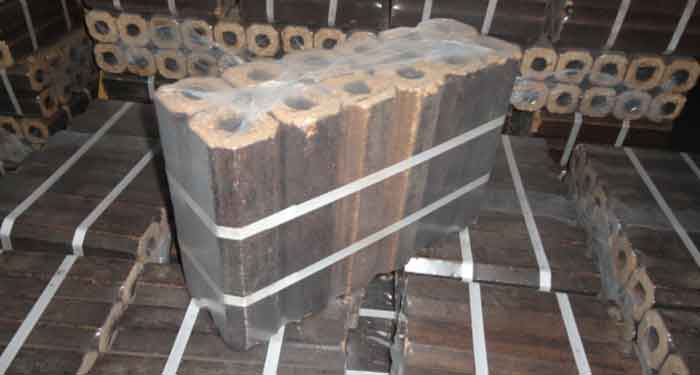 Size: Diameter 45-80 mm; Inner hole 15-20 mm; Length 200-500 mm;
Shape: Square, hexagonal, pentagon, pentagon with edge, hexagon with edge, etc.
Density: 1.2-1.4 kg/m³;
Usage of the final briquette
The briquette can be used as fuel for burning, and because of the hollow shape as well as the high density, it is an ideal product for making charcoal.
Reference Specifications of charcoal made by briquette with screw briquetting machine:
carbon content> 85%, the calorific value> 4000-7000 kCal, ash <5%, volatile matter <15%, moisture <4%, no impurities, smokeless and odorless, burning time> 3 hours. Density 3 times compare to traditional charcoal.
Features of our screw bio briquettes machine (spare parts)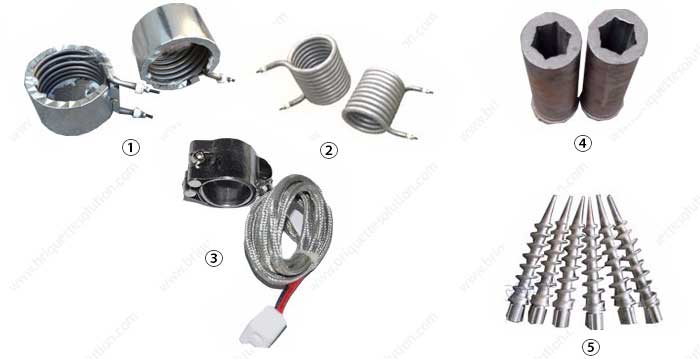 1,2,3. Heating ring 4. Shaping drum 5. Screw Shaft
Shaping drum, special casting steel, inner barrel boron treatment, continuously use for more than 5 months.
Accessories, our large factory of welding rod joint development makes this special mechanism of carbon electrode welding process simple and with high quality, hardness up to more than 75 degrees, and solved the crack resistance, don't need to preheat and weld directly.
Screw Shaft, advanced design, high speed of producing rod, high density, high resistance to wear, one welding time can work continuously for more than 30 hours.
Briquette plant with screw bio briquettes machine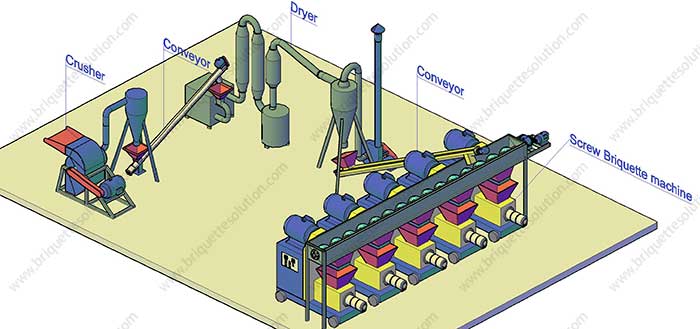 Crush-Drying-Briquette
It's easy to run a briquette plant with screw briquetting machine and always with low cost. Normally the briquette line will be with these kinds of machines:
1. Crusher: A crusher will help you to reduce the size of your raw material to proper size (normally less than 5 mm).
2. Dryer: For small capacity drying, you can choose the air flow dryer with small investment as well, if your capacity is bigger, a rotary dryer will be a better choice.
3. Briquette machine: This is how you make the raw material into briquette.
4. Other accessories: Conveyor, material distributor, etc.
An ideal product as raw material for charcoal making
As the high density and the hollow shape, the briquette becomes an ideal material to make charcoal, the high density ensures a long burning time, and the hollow shape makes it easy to turn into charcoal, which not only helps you to save time as well as the energy cost on the charcoal making process.
If you want to make the charcoal with briquette, you can choose our carbonization furnace for further producing.
Parameter
| Model | Capacity(kg/h) | Main motor(kW) | Heat rings(kW) | Weight(ton) |
| --- | --- | --- | --- | --- |
| MTSB110 | 100-150 | 11 | 3*1.5 | 0.65 |
| MTSB150 | 150-200 | 15 | 3*1.5 | 0.8 |
| MTSB185 | 200-300 | 18.5 | 3*2.2 | 0.9 |
| MTSB220 | 300-400 | 22 | 3*2.2 | 1.0 |
Screw bio briquettes machine price
The cost of the bio screw briquettes machine is much lower compare to other briquette machines. It's a very ideal briquette machine for small investment, run a charcoal making line is really simple and has a wide range of the market. please contact us below for more professional advice.