Waste recycling plant – turn biomass waste to fuel briquette
---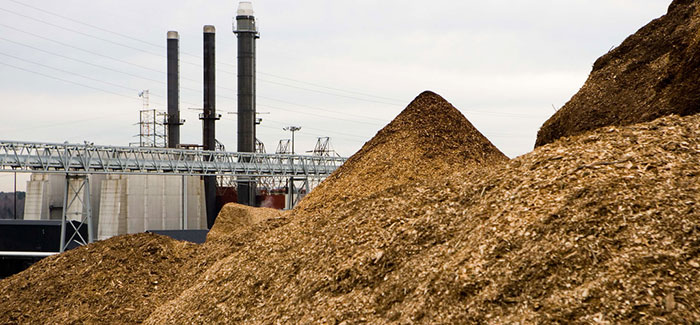 Make a biomass waste recycling plant will help to reduce other fuel cost and make extra value from the biofuel briquette.
Why make the waste recycling plant for biomass waste
Among the world's major energy components, biomass energy is now one of the most rapidly growing energy source (main energy sources: oil, coal, natural gas, nuclear energy, hydropower, renewable energy, etc).
Because of the unsustainability for many of these energy sources. As a simple and easily generated energy source, renewable energy is now gaining popularity. As one kind of renewable energy, biomass energy has attracted more and more attention.
The exact biomass waste
Biomass waste mainly is the crop waste like the straw, husk, other wood waste, and livestock manure, etc.
The following summarizes some of the biomass materials we may find sometime.
Food crops
Agave, Alfalfa, Barley, Corn, Oats, Rye, Wheat, Oil palm, Argo waste, etc
Wood waste, Wood byproducts
Bark, Saw dust, Shavings, Chips, Branch, Leaf, etc
Grass fuel energy
Switchgrass (panicum virgatum), Silvergrass (miscanthus), Psammophila (salix brachycarpa), Smooth cordgrass (spartina alterniflora), pennisetum sinese roxb, etc.
Paper
Cardboard
Food waste
Manure
etc.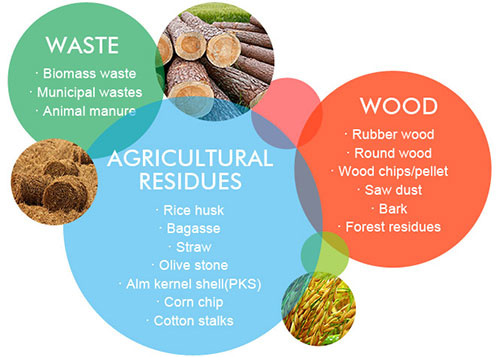 How to deal with bio waste – common ways
There are several ways to deal with the bio waste, some common ways are as follow:
Produce biogas
It is very common to see a biogas generate system as it's with mature technology and simple equipment. Compare to other liquid fuels, the bio gas is easy to compress and store. It's also an environmental protection by reducing the cost of other fuels like coal, oil, gas, etc as well as greenhouse gases in exhaust.
Gasification for power generation
The simply processed biomass can be chemically reacted under anaerobic conditions, and a combustible gas can be obtained after gasification in a gasifier. But as the technology is not far more to support, the facility is always with low production capacity, small scale, low gasification efficiency and low yield.
Make bio-coal briquette
Bio coal briquette as kind of fire briquette can increase the energy density on volume, make it easier to transport or storage, also reduce the cost on these processes. It's also easy to deal with the biomass by briquetting, deal the raw material to proper condition and then it can be directly briquette.

Does it worth? To make bio coal briquette from biomass waste
The main purpose of making biomass briquette is to increase the density of raw biomass.
Raw biomass is always with a low bulk density which restricts it for large-scale applications. The low density also makes other problems in transportation, storage, etc.
Make briquettes also improves the burning effect of the biomass waste. The structure of biomass itself is relatively loose and with high & easy volatile content.
When it burns, at the initial, large amount of volatile components cause insufficient gas combustion, and at the very end, lots of unburnt-up raw biomass will be blown out by the hot air because of the loose structure, which causes heat loss as well.
Chart of energy output ratio (The higher, the better)
| | |
| --- | --- |
| Energy source | Ratio |
| Coal | 80.25 |
| Biomass briquette | 53.67 |
| Gasification | 8.25 |
| Biogas | 4.4-6.5 |
How to make the waste to fuel briquette
The bio coal briquette making process is much simple. As we wrote above, "well treated" argo waste can be directly briquette by briquette press.
So what is a "well treated" raw material, it depends on two aspects:
Material with proper size
Material for briquetting should be with the proper size. Though we don't need to consider the binder consumption in biomass briquette making, raw material with proper size distribution will help us to make briquette with high quality.
Material with proper moisture
Briquette taking place in a certain range moisture keeps the product with better quality. No matter moisture too high or too low will cause problems on forming or quality.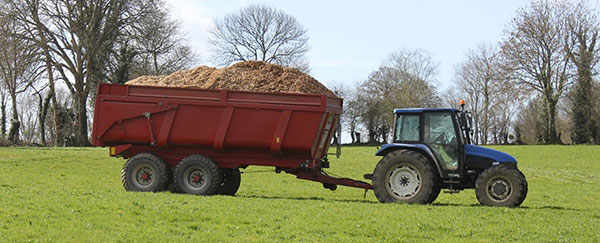 The bio coal briquette making process
The briquette process with the way below
Raw biomass waste ⇒ Drying (natural drying or dryer) ⇒ crushing (crusher) ⇒ Briquetting (log briquette maker)
The raw biomass should be dried first if that was with a moisture too high, then the dried material can be crushed by a crusher. In order to save energy and the consideration of per briquette cost, it is recommended for using natural drying way if the raw bio-waste is with a moisture too high (more than 30%).
Drying and crushing process can be ahead of each other with different conditions, which means raw biomass waste either dried first or crushed first, it depends on the condition of the raw material.
Machines will be involved in this process
The process of drying and crushing can be swapped when needed.
Several types of machines will be used for the briquetting process, mainly they are conveyor, dryer, crusher, briquette press.
Conveyor
Two types of conveyors are used in the bio-waste briquetting – belt conveyor and screw conveyor.
The belt type conveyor is used for the bulk material transportation with smooth running and a big capacity. Screw type conveyor is used to transport the crushed material with lower energy consumption and dust free.
Dryer
When a dryer is needed, usually we use the rotary dryer. For those small particle materials, it is drying in a way with efficiency. Also, it's easy to operate and maintain.
Briquette Press
In the bio-waste briquette making process, we usually choose log briquette maker as the main briquette press because of the following reasons.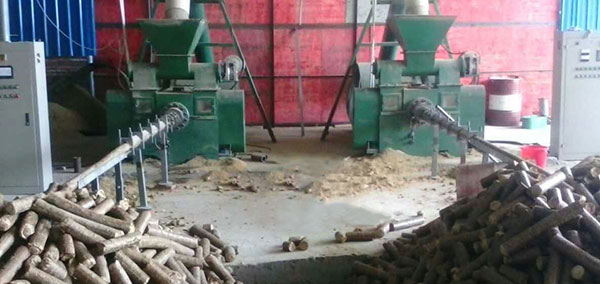 Why choose log briquette maker rather than other briquetters in bio briquette making
There are many types of briquette presses for making biomass briquette. They all have their advantages and disadvantages.
But in the bio waste briquette making process with big capacity. The main briquette briquette press we usually used is the log briquette maker.
So why we choose log briquette maker as the briquette press rather than other briquetters? Mainly there are six reasons.
1. The final briquette is big in diameter, with longer burning time
Log briquette maker can produce briquette in a big diameter, these briquettes are easy to burn for hours.
2. Briquette with high quality, briquetting process with high pressure
By fixing up the briquette press, it will be suitable to make briquette with a proper density.
3. Big capacity
One set of the machine can reach a capacity of 1 ton per hours, with and double output type, the capacity can even up to 2 tons per hour.
4. Low maintain
The spare part can keep running for hundreds of hours with no fault.
5. Easy to deal with all kinds of biomass waste
Thanks to the high pressure, it is easy for us to deal with all kinds of materials by log briquette maker. Even for some raw biomass with lower lignin content and higher in fibers.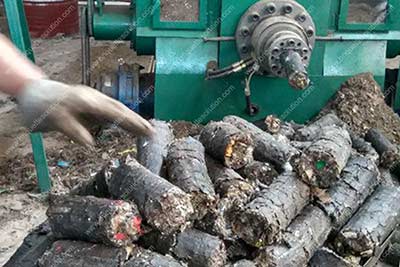 Even MSW can be briquette by log briquette maker
6. Both briquette and pellet are available
Log briquette maker fix with a flexible mould system which allows you to change the mould for manufacturing both briquette and pellet on the same machine.
The usage of the bio-waste fuel briquette
The main usage of the briquette is in industry. Industry usage: industrial boiler, electric generate.
It is also suitable for home use like fireplace, cooking, etc.
Contact us today to learn more on bio waste briquette making and find your own solution now!