Log Briquette Maker
---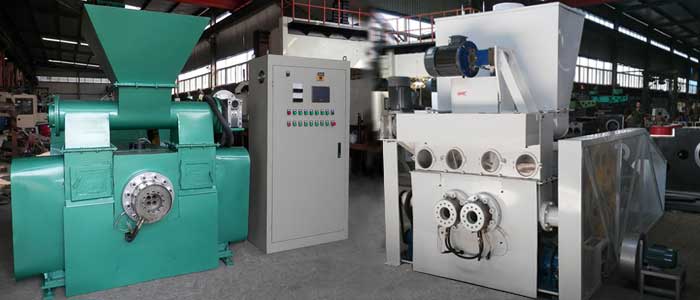 Log briquette maker or stamping briquette machine is a kind of machine using the piston briquette theory to make the briquette.
High Pressure
The stamping energy comes from the big eccentric wheels which are connected with the motor by belt. In this running process, lots of energy stores and brings the pinch to stamp. The piston will push for 272 times every minute, makes an impact force up to 300 tons, which helps to make a high density biomass briquette, final biomass briquette density around 1-1.4 g/cm³. Compared, the density of the sawdust only have a density around 0.1 g/cm³.
More Than A Briquette Machine
The log briquette maker can produce briquette size between 6-80 mm, it does jobs not only a briquette machine does, also makes good pellet! Beside this, there are many advantages for you to choose a log briquette maker rather than a pellet machine, see the following:
A Comparison with pellet machine
| | | |
| --- | --- | --- |
| | log briquette maker | Pellet Machine |
| Principle | Ramjet | Extrusion |
| Power consumption per ton | ≤40 kW | 80-120 kW |
| Continuous working time | 7*24 hours | Need to break each 3-4 days |
| Mold cost per ton | ≤ USD 2.5 | USD 3.5 – USD 4.8 |
| Mold change time cost | 10 Minutes | 1 hour |
| Add oil | Every month | Every 2 hours |
| Briquette/Pellet size | 6-80 mm | 6-12 mm |
| Failure rate | Low | Need to be repaired each 5 days |
| Overload | Seldom | Always |
| Overload Solution | Machine reverse | Take 2-3 hours on repairing |
The briquette length also can be adjusted which can even to one meter long!
Flexible die system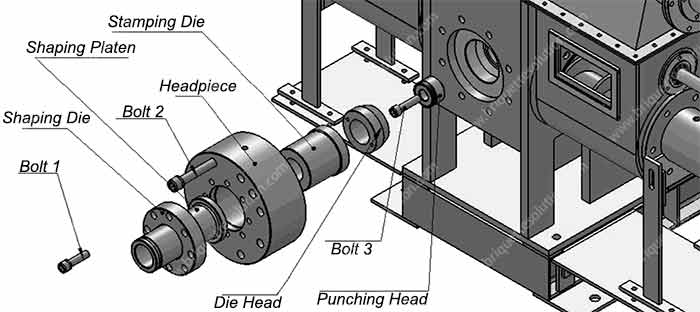 Flexible die system can rapidly transform your briquette size, allowing for easy changeover for small pellets or big briquettes, reduced stock holding. Further increasing the efficiency and productivity of your manufacturing operations.
Ten reasons why you should choose our log briquette maker
1. Can smoothly run for 7000 tons capacity without any fault;
2. The mold is made of special alloy steel, small and light, can keep using for 300-400 tons capacity;
3. With converter technique, feed speed adjustable, minimize the energy cost;
4. High-precision bearing bush, increase the smoothness of turning and impact resistance for the main shaft, highly extend the bearing working time;
5. Force oiling system for the piston and shaft, keep the machine running smoothly and extend these parts working time;
6. A variety of material adaptability, almost all the biomass materials can be briquette;
7. Three levels pre-press helps to make high quality briquette;
8. Can produce briquette from 8-85 mm only by changing the mold in an easy way;
9. Continuous work, Low energy consumption as well as low maintenance rate;
10. Simple and easy on operation.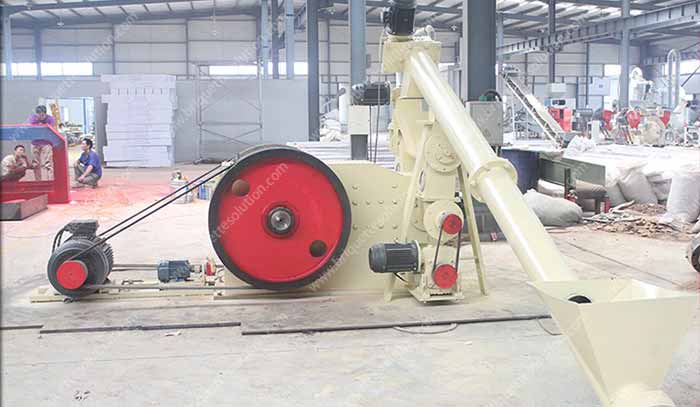 Raw Materials
All the biomass and bio-waste.
Example: Crop stalks (including cornstalks cotton stalks ), grain shell, Rice husk, peanut shell and stalks, cotton stalks, sawdust, branch, bark, bean straw, bamboo powder, furfural residue(could be mixed used), wood scraps, forest harvesting slash, household refuse, scraps produced by paper making factory, living garbage, etc.
Material requirement
Size: less than 30 mm.
This will make a low cost on the crusher as well as the energy cost of the crushing process.
Moisture: between 10-18%
As the optimum moisture content for briquette purposes varies with the raw material,  from our experience the recommended moisture is from min. 10% to max. 18%. The ideal moisture content for most of the woods based material is 10-12%.
Want to find the briquette effect of your material? Contact us today for a
free sample test
!
I want to take a test
Briquette Show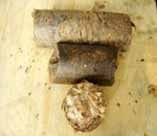 sawdust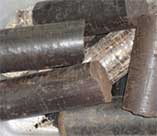 sawdust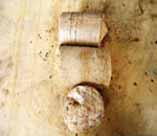 wood shaving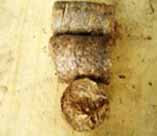 bark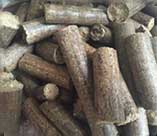 peanut shell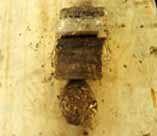 corn stalk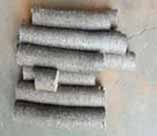 paper mill waste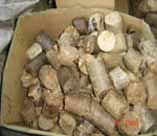 several biomass mixes
Binders? No!
Log briquette maker follows a stamping process that biomass is compressed under high pressure and high temperature. The briquette machine uses a large piston structure to make the biomass into briquettes that are of uniform composition. The self bonding of biomass to form a briquette involves the thermo-plastic flow of the biomass. The lignin content that occurs naturally in biomass is liberated under high pressure (up to 300 tons) and temperature (around 150-200C). Lignin serves as the glue in the briquetting process, thus binding, compressing the biomass to form into high density briquettes. During this process, no binder need to be used. And the output briquette is a type of clean and green fuel that is ideal for use in furnaces, boilers and open fires.
Log Briquette Plant

Crush ⇒ Drying⇒ Briquette
Crush: Though the log briquette maker has a rough material requirement on size, if your material is too big, it also needs to be crushed before briquetting, and remember, small raw material will help you to make high quality briquette;
Drying: A rotary dryer will be needed if the moisture of your raw material is too high;
Briquette: Choose the right log briquette maker model for your capacity, and one more thing you should know is the model YKSB-2 has twice the capacity as model YKSB-1, but only take 1.3 times electric cost!
Parameter
| | | |
| --- | --- | --- |
| | MTSB-1 | MTSB-2 |
| Capacity (t/h) | 1-1.3 | 2-2.6 |
| Main Engine Power (kw) | 45 | 75 |
| Total Power (kw) | 64.05 | 98.8 |
| Power Consumption (kw/h) | 50 | 65 |
|  Space Requirement (m²) | 16 | 18 |
| Weight (t) | 6.8 | 8.8 |
| Size (mm) | 3500*1950*2000 | 3500*2600*2000 |
Note: making pellet will cost less electric than making briquette.