Wood Chip Compactor
---

Wood chip compactor is a kind of hydraulic compacting machine which includes mainframe, hydraulic system, and electrical system. A pressure-keeping system with liquid cooling device. All the wood chip compactors are the automatic type.
The machine's separator board enables the continuous feeding of the feeding hopper to increase the efficiency. The hopper can be connected to a storage bin, and can also be directly connected to conveyors, augers, etc.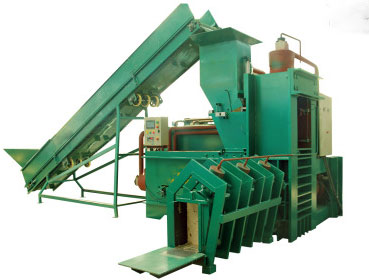 Working principle
The raw material is fed in the hopper by a conveyor,  the machine will auto-run when infeed sensor in the hopper senses there's enough material, it begins to work as follow:
The pre-compression cylinder compacts the wood chip from outside to inside, the compression cylinder continues to compact the wood chip from top to bottom, and the pusher cylinder pushes the compacted wood chip into the packaging bag. After this working cycle done, each of the compression cylinders will back to its original place and to do the cycle again.
Working cycle interval time is adjustable.
Material
wood chip, sawdust, bamboo chip, corn cob, etc.
Product
Regular compact size: 470mm*280mm (can be customized)

Feature
1. Simple structure, high performance-to-price ratio, high compression speed, automation, high efficiency, long service life, electric control with automatic packing, automatic limit stroke.
2. The machine can control the weight of the packing by adjusting the feeding volume through the feeding hopper. The material fed volume of the compression bin can be adjusted by adjusting the stroke of the compression cylinder to adjust the size of the compression bin. And the compression times of the compression cylinder can be adjusted according to the different materials.
3. The cooling system can be tubular radiator if your working environment is with very high temperature.
4. Mechatronics. Promote the improvement of the hydraulic system with both sides of machinery and electronic.
5. Automation, intelligence. The rapid development of microelectronics technology provides sufficient conditions for the automation and intelligence of hydraulic systems. Automation is not only reflected in the processing, but it is able to achieve automatic diagnosis and adjustment of the system, with the function of fault pretreatment.
6. Hydraulic components integration, standardization. The integrated hydraulic system reduces piping connections and effectively prevents leakage and contamination. Standardized components bring convenience to machine maintenance.。
Parameter
| | |
| --- | --- |
| Model | MTWC360 |
| Packing Size (mm) | 420*350 |
| Packing Speed (bag/min) | 120 |
| Pressure (kN) | 2000 |
| Power (kW) | 70 |