Double Shaft Mixer
---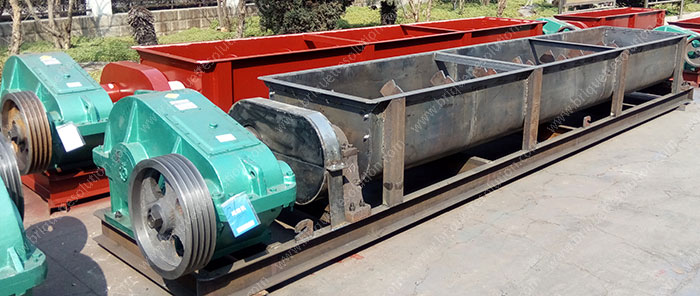 Double shaft mixer is used for mixing materials continuously & uniformly. During the mixing, the material can be uniformly mixed with binder (liquid binder or powder binder is considered by user's formula), after mixed, the blended material can be continuously sent to the conveyor, transmit to the next equipment. Double shaft mixer is usually applied to mix coal, mineral powder, iron powder, oxidation iron, coal slurry, sludge, clay, fly ash etc, with the good effect on mixing & blending.
Structure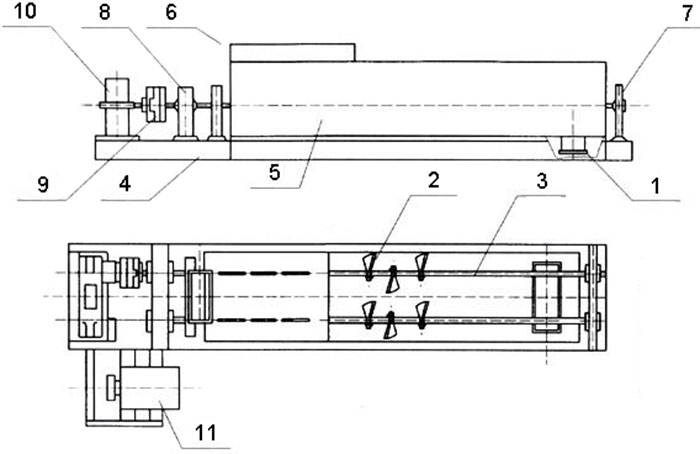 1. Material output
2. Paddle
3. Shaft
4. Base
5. Chassis
6. Material input
7. Bearing seat
8. Gearbox
9. Coupling
10. Reducer
11. Motor
Working principle
Two mixing shafts make equal speed reverse rotation inside the horizontal cylinder, then the specially arranged blades enable the materials to do radial, circular and axial movement simultaneously, which forms a complex circulation to evenly mix the material in short time.
Flying cutters is optional for assisting mixing.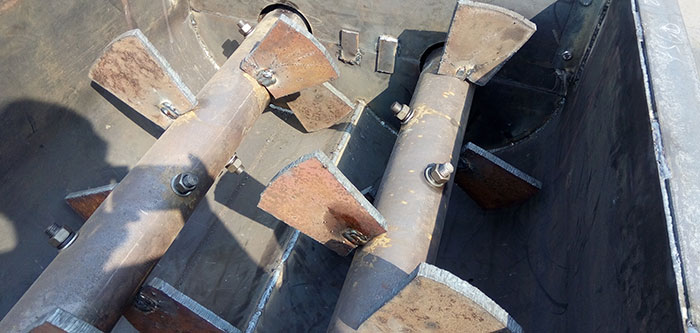 the double shaft-1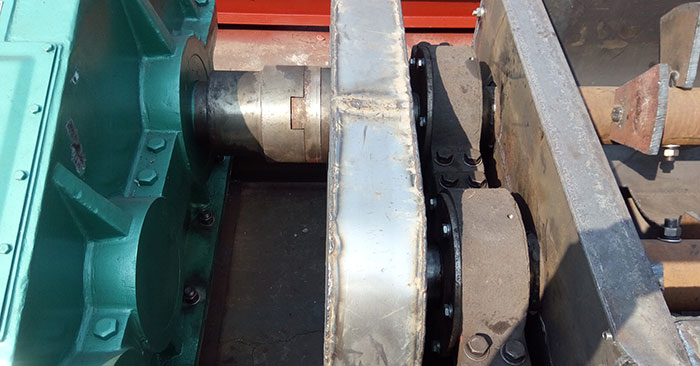 the double shaft-2
Feature
1. Hard tooth flank reducer, torque limit, safe operation.
2. High wear-resisting mixer blades, long service life, reliable guarantee for normal operation.
3. Reasonable structure for shaft and sealing device, convenient maintenance, avoid water leakage, eliminate risk phenomenon.
4. Spacious flip access door, comfortable and relaxed maintain.
5. Flexible and reliable electric control system.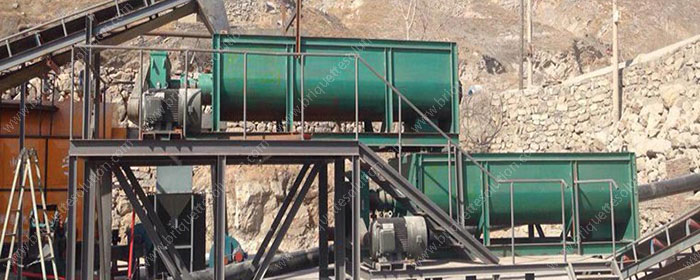 We set two sets double shaft mixer for better mix effect
Technical Parameter:
| | | | |
| --- | --- | --- | --- |
| Model | Power (kw) | Capacity (t/h) |  Dimension (mm) |
| YKM2500 | 7.5-11 | 5-10 | 4200*1600*650 |
| YKM3000 | 11-15 | 10-20 | 5200*1600*650 |
| YKM4000 | 15-18.5 | 15-30 | 5750*1700*870 |
| YKM5000 | 22-37 | 20-50 | 6750*1700*870 |