Fuel Gas Stove
---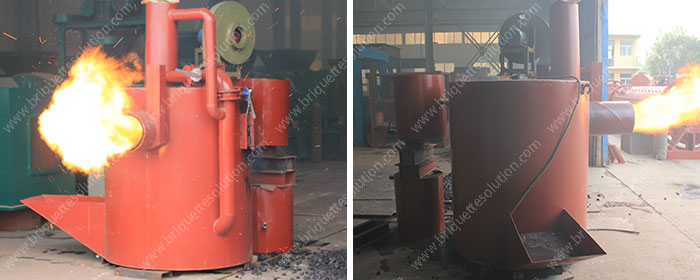 Fuel gas stove is used as the heating system for briquette line. Compare to normal type stove, it can save fuel cost by more than 20%.
Working principle
It is a way of chemical reaction to produce mixed gas and burn the heat of the workpiece heating furnace when the air and water vapour go through the high temperature of the solid fuel layer (normally coal or coke), this reaction set off.
The solid fuel layer can be divided into five small layers, from the bottom to the top, we call them ash layer, the oxide layer, reducing layer, dry distillation layer, and dry layer. The gasifier (air or water vapor) goes through the ash layer for a pre-heat, then it steps in the oxide layer, meanwhile, the carbon and oxygen are oxidized and exothermic, this heated hot air reaches the reducing layer keeps heated there and move to the dry distillation layer and the dry layer, where the hot air volatiles and escapes together with the physical sensible heat, then we burn these air.
This fuel gas stove is a long run machine one full-fill coal feeding can help to make it burn for 2 hours. The temperature is adjustable and can up to 1400 Celsius.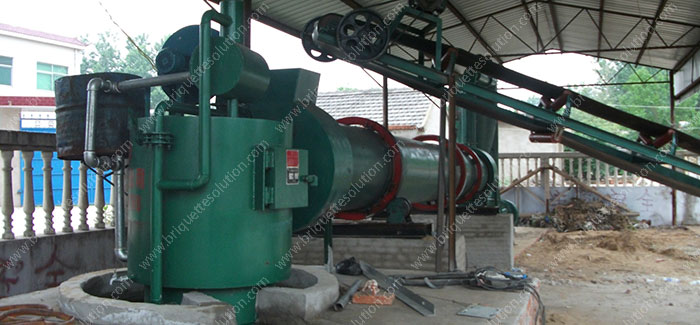 Fuel gas stove used in our drying line
Feature
(1) Low fuel consumption;
(2) Easy to maintain;
(3) No block;
(4) Long burning time, the ashes only need to be removed once a week;
(5) No black smoke. Bituminous coal is also available.
Main technical parameter
| | | | | |
| --- | --- | --- | --- | --- |
| Model |   Power | Fuel Calorie(kcal) | Max. Temperature | Goal Consumption |
| ¢100 | 0.55 kw | ≥5000 | 1400℃ | 30 kg/h |
| ¢130 | 0.75 kw | ≥5000 | 1400℃ | 50 kg/h |
| ¢150 | 1.1 kw | ≥5000 | 1400℃ | 70 kg/h |
| ¢180 | 1.1 kw | ≥5000 | 1400℃ | 80 kg/h |
| ¢200 | 1.5 kw | ≥5000 | 1400℃ | 100 kg/h |
| ¢220 | 1.5 kw | ≥5000 | 1400℃ | 120 kg/h |