Inclining Conveyor
---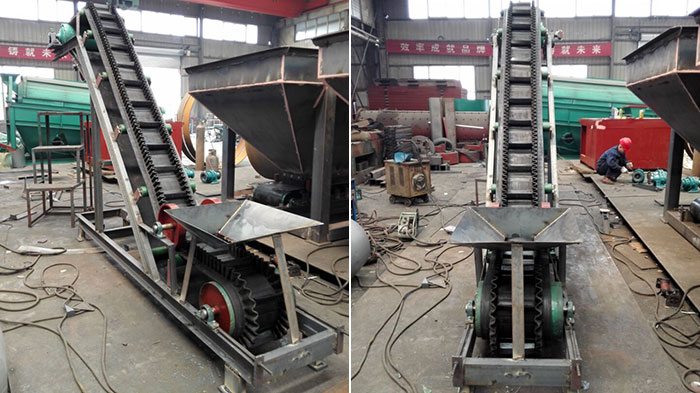 Inclining conveyor is also called corrugated sidewall belt conveyor. In some conditions, due to the limit space or in case of lifting materials at a large slope, inclining belt conveyor is always used to avoid material spilling. This system can convey materials vertically and also can work at a large slope from 0 degrees to 90 degrees, and allow heavy load material conveying. It is widely used in recent years due to the requirement of conveying height, conveying capacity.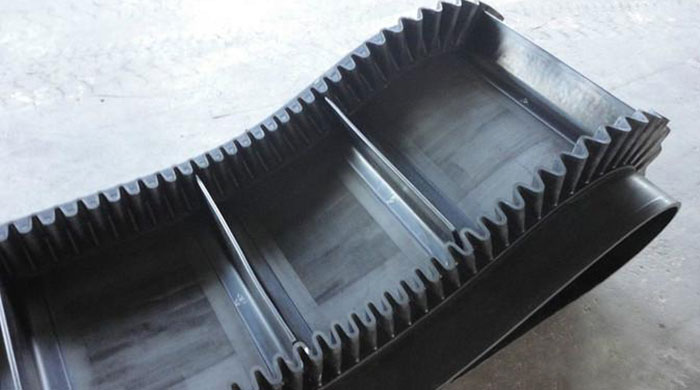 Inclining conveyor consists of the side wall and cross cleats which are advanced and simple in structure, and is easy to maintain.
Application
Vertical shaft, coal mine, subway, self-unloading ship, continuous ship unloaded, cereal, metallurgy, chemical, cement.
Mining, metallurgical and coal industry to transfer sandy, lump materials, and packaged materials in large slant angle.
Feature
According to different transferring equipment, the transfer system can be one solely or multi-conveyors or combined with other transfer equipment.
Inclining conveyor can be installed horizontally or aslope to meet the needs of different transfer lines.
simple structure, steady performance, easy to fix,
Conveying at a big inclination, compact structure, small coverage area.
Parameter
 Belt width (mm)
Side wall height(mm)
Part angle throughput (m³/h)
Dimensions
30°
45°
60°
90°
Height of first roller(mm)
Height of tail roller (mm)
Height of belt surface (mm)
Width of anchor (mm)
300
40
15
11
8
4
350-1000
335
450
480
60
14
10
7
4
400
60
20
14
10
5
330-490
500-700
580
80
34
26
18
10
500
80
46
35
25
13
1100-2000
600
760-800
870
120
71
57
40
21
650
120
104
83
58
31
1300-2000
600
800-850
1020
160
120
97
69
37
800
120
128
102
72
38
600-800
800-1115
1220
160
157
127
90
48
200
195
157
112
60
240
235
195
142
76
1000
120
172
137
96
51
1400-2000
600-800
800-1200
1440
160
216
175
124
66
200
267
216
157
83
240
327
271
197
106
1200
160
275
222
158
85
800-1000
1050-1500
1690
200
331
267
192
102
240
419
347
253
136
1600-2000
300
466
384
178
149
1400
160
319
258
184
98
800-1200
1050-1700
1890
200
395
318
226
121
240
500
414
302
162
300
564
465
337
180
400
794
680
524
281