Mesh Belt Dryer
---

Mesh belt dryer is a batch type, continuously working drying equipment. Mesh belt dryer is usually used to dry various briquettes, such as coal briquette, mineral powder briquette, iron powder briquette, fluorite powder briquette. Moisture content after drying could reach 5% below (moisture content is adjustable by the control system). It is widely used and an important equipment in briquette production line. Also, we could use mesh belt dryer of stainless steel to dry cassava chips, fruits, vegetables, medicine, food, etc. Mesh belt dryer has features with high efficiency, high capacity, high evaporation strength, standardized production. We could increase the segment according to the capacity. Mesh belt dryer has a high efficiency for the materials that request low moisture content. We could supply customization service according to the client request. The main heating mode is electric heating, steam heating, hot air heating, Materials that are processed by mesh belt dryer are easy to store and transport. Mesh belt dryer is energy-saving and environment-protecting equipment that creates a good economic benefit and social benefit.
Belt
Mesh size between 12-60 mesh, with the stainless steel or other non-metallic materials. The thickness of material on the belt normally between 20-100mm.
Mesh belt dryer is mainly used for drying finished briquette to meet a low moisture for transportation or using, also it has other wild usages for all kinds of material.
Applications
Food Industry: De-watering vegetable, particle feed, monosodium glutamate, shredded coconut stuffing, garlic, cushaw, turnip, yam, bamboo shoot, etc.
Chemical Industry: Organic pigment, compound rubber, acryl fibre, medicine material, etc.
Others: Plastic product, small wooden product, ageing for the electronic component device.
Working principle
Mesh belt type drying machine main principle is the material evenly tiled on the mesh belt, is driven by the drive device in the dryer moving back and forth, hot air in materials and the cross flow, water vapour from the wet discharging hole in discharge, so as to achieve the purpose of drying. Network with 12-60 to wire mesh belt, the body length by a combination of the standard section, in order to save space, the drying mechanism into multi-layer, common has two room three and two-room five layers, length 6-40m, effective width 0.6-3.0m.
The material has the nose to enter slowly through the drying for drying, net belt line speed depending on the type of material and water content. Air flow to the use of negative pressure, porous air, to ensure the effective drying area, wind speed distribution uniformity, improve the drying effect. In order to get the best drying effect and the appropriate output, the water content of the material, the line speed of the net belt, the air volume and the air temperature must be the appropriate, reasonable and organic combination.
Details show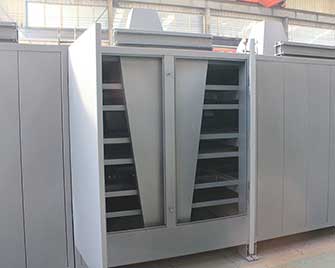 access door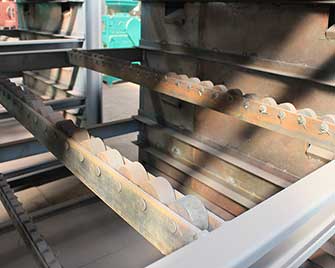 chain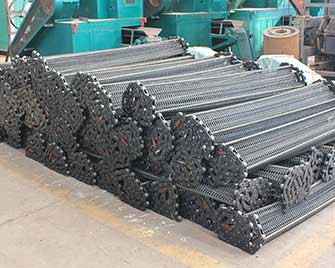 mesh belt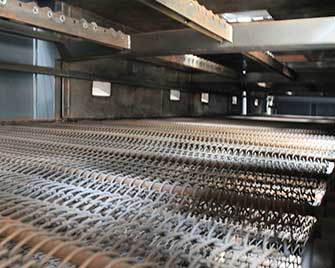 equipped mesh belt
Heat source
The main heating mode is electric heating, steam heating, hot air heating,
Characteristic:
1. small investment, fast drying, high evaporation intensity.
2.High efficiency, high output, good quality products.
3.standardized production, according to the number of output increase.
4, adjust the air quantity, heating temperature, material residence time and feeding speed to get the best drying effect.
5, equipment configuration is flexible, can be used in the network with flushing system and material cooling system.
6, most of the air circulation, high energy saving.
7, the unique sub – wind device, so that the hot air distribution more uniform, to ensure the consistency of product quality.
8, the heat source can be steam, heat conduction oil, or gas stove.
Features of  Mesh belt dryer 
1.High drying efficiency, good drying effect. Mesh belt dryer is continuously working drying equipment, used "feeding at one end and discharging at the other" method for drying materials. Due to the special design on the inside structure of mesh belt dryer, mesh belt dryer has a high drying efficiency. We could control and adjust the final moisture content to client request.
2. Energy-saving, environment-protecting, no pollution, no noise. Mesh belt dryer could dry coal briquette, mineral powder briquette, mill scale briquette and food, medicine, vegetable, fruits, etc. This improves the resource utilization. Due to the special design of mechanical structure and electricity control, mesh belt dryer works at a low power. Also, mesh belt dryer is equipped with multistage dust collecting equipment to meet the national standard of environment protection. Reduce the environmental pollution from equipment; it is a kind of good energy conservation and environmental protection equipment. Our mesh belt dryer adopts enclosed structure; no air pollution and noise pollution will be happened during drying process.
3. Wide application range, low request for the working environment. Mesh belt dryer is applicable for every country in the world. We could make some adjustment according the different situation in different countries, such as voltage, engineering design requirement, geographical conditions, etc. As to the working environment, Mesh belt dryer could work normally in severe cold, high temperature, plateau, etc.
4.Simple installation. Mesh belt dryer could work directly on horizontal hardened site. In the running, no vibration happens. It is also convenient to transfer and transport the equipment.
5. Few workers, simple operation, easy maintenance. To client request, we could provide semi-automation and total automation production line. Only regular maintenance to the instruction is needed. It is very convenient to maintain.
6.High safety. The transmission parts all adopt enclosed or semi-enclosed design to the equipment standard of security, such as transmission shaft, motor, belt pulley, etc. This ensures the safety of equipment and workers. And belt dryer is equipped with observation platform and sight hole to ensure the safety of equipment and workers.
Parameter
Model
YKBD6
YKBD8
YKBD10
YKBD12
YKBD16
YKBD20
YKBD24
YKBD30
Belt width (mm)
600
800
1000
1200
1600
2000
2400
3000
Feeding section length (m)
1
1
1
1
1
1.5
1.5
2
Drying area (m²)
3.6-36
4.8-48
6-80
7.2-96
12.8-105.6
20-260
28.8-360
36-600
Layer number
1-5
Interlamellar spacing (mm)
400-600
Loading capacity (kg/m²)
90-200
Operation temperature (°C)
carbon steel ≤ 400 C°
stainless steel ≤ 600 C°
Evaporation intensity (kg/m²·h)
5-20
Heat source
hot air, electric, steam, etc.
Running speed (m/min)
0.06-1
Accessories
conveyor, air heater, dust collector, draft fan, etc.
Remarks: Technical parameter is adjustable for different materials, capacities and moisture.