Coal Charcoal Briquette Making Machine
---

Coal charcoal briquette making machine or honeycomb/beehive briquette machine is a kind of briquette press to briquette materials such as coal, charcoal, etc into honeycomb/beehive shape or similar shape briquette. These briquettes usually used in cooking, BBQ, warming, etc.
Material
COAL and CHARCOAL are the commonest materials used in coal charcoal briquette making machine, also you can use this to briquette other materials such as coke, metallurgical powder, refractory material, etc.
Material requirement
Moisture: 8-15%. You should keep a good proportion of the moisture. Too low, it will make the briquette tough and lax, with low force. Too high, it will make the briquette too soft, be hard to transport and takes more time to dry.
Size: less than 5mm. As the theory on briquette making is similar to roller briquette press machine, we also recommend to making the briquette with the size of less than 5mm.
Pressure adjustable
The density of the briquette can be changed by changing the upper punching part. Can save electric and binder cost for you. 45-220dia 40-90height
Binder? what kind of binder?
You should use binder to make briquette in the coal charcoal briquette making machine. In coal briquette making process, usually we use clay or lime to reduce the binder cost.
Final Product
Not only honeycomb/beehive shape
Yes, you can see from the name of the product it can make the honeycomb/beehive shape briquette, besides this shape, we also designed other shapes for your market, such as round, cylinder, square, rectangle, polygon, hexagon, sector, etc. Also we can make a customized shape according to what you need. The following are some common shapes for your reference.
Some Briquette Shapes Show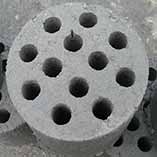 round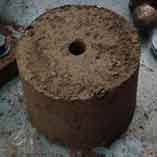 round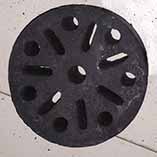 round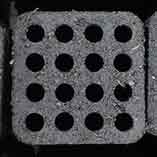 square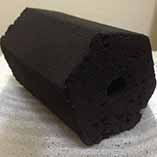 hexagon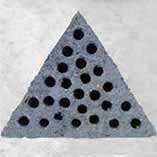 triangle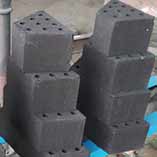 trapezoid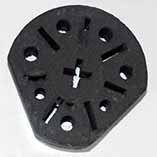 irregular
More choices for shapes
Maybe not every customer is satisfied with the briquette shape you make of, now here comes an easy way to solve this problem. This coal charcoal briquette making machine is an easy-mould-change machine from which you can produce different shapes in one machine, what you need to do is only purchase more molds (drift and turntable) and change them whenever you want.
Briquette Size
The following are the size of common shapes.
Round shape: Diameter between 45-300 (mm)
Square shape: 30*30 (mm) to 150*150 (mm)
The hole in one briquette can be:19, 16, 15, 12, 9, 1, 0, etc.
overwhelming force for honeycomb briquette: 60-90kg
Briquette Burning Time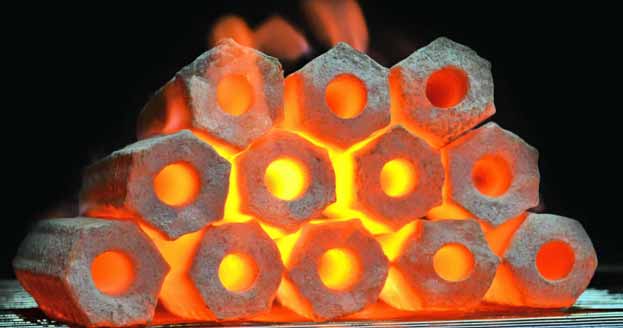 For coal briquette, the burning time is 80-100 minutes;
And for charcoal briquette, the burning time will be 4-5 hours.
Why and who should choose a honeycomb/beehive briquette machine?
Honeycomb/beehive briquette is an ideal briquette for civil usage, the briquettes have excellent burning qualities as they burn from the inside out through small holes so the energy release is gradual and uniform. the mold is easy to change to satisfy your customers, all the briquette are with the same shape and size, easy on storage or transportation.
Run a honeycomb/beehive briquette line is also cost much less than other briquette making machines which make coal/charcoal briquette. So, if this is your first time to run a small business to make briquette for civil usage, this is the most suitable briquette machine you should ever choose!
Run a honeycomb briquette line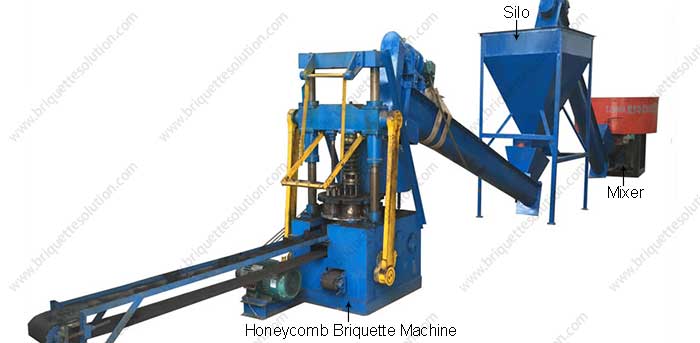 Honeycomb/beehive briquette line is easy to build and to operate. Normally the line is as follow:
Crush⇒Mix⇒Briquette
As the briquette is usually for civil usage, we can also pack the briquette with some kind of packing machine, like the shrink packer.
And let's describe why we take this process to make the honeycomb/beehive briquette.
Crush: All the briquette machine has a requirement on the size of the raw material, if your material is too big, crush is the first thing we need to do.
Mix: Add binder to make briquette is a common way, before briquetting, the material always should be well mixed with the binder which will help to improve the quality of the briquette also avoid the briquette forming problem.
Briquette: After the above work has been done, we put our material in the machine to make the honeycomb/beehive briquette.
Note: We have many choices on the machines for the honeycomb briquette process, to improve the quality, to reduce the cost on the first investment, etc. Please contact us freely for your best customized solution or free consultation.
Parameter
Model
Pressure (t)
Briquette Size (mm)
Capacity (p/min)
Power (kw)
Weight (t)
MTHB120
20-25
Square: Max 85*85
Round: Max Dia. 120
60
7.5
1.6
MTHB140
20-30
Square: Max 100*100
Round: Max Dia. 140
55
7.5
1.8
MTHB160
20-35
Square: Max 125*125
Round: Max Dia. 160
55
7.5
2.2
MTHB180
25-35
Square: Max 150*150
Round: Max Dia. 180
45
7.5
3
MTHB220
30-40
Square: Max 200*200
Round: Max Dia. 220
40
11
3.6