Roller Briquette Press Machine
---

Roller briquette press machine or roller briquette press is used to briquette the wet materials into the briquette.
Materials

Almost all the materials can be used in the roller briquette press machine, the following are some common materials:
For BIOMASS BRIQUETTE, we recommend to use other briquette machines, like the log briquette maker, screw bio briquettes machine, wood chip compactor and biomass brick briquetter. Find them in our briquette machine center.
Not sure whether your material can be used or not?
today for more details, we can even supply you a
Free Sample Testing
!
Requirement of raw material
Size
High quality briquette comes from the small raw material, for common materials, less than 5mm is a good choice for energy saving and usage.
Moisture
Moisture is very important in briquetting process, if the material is too wet, it will stick in the roller hole and the machine won't make briquette anymore, too dry, you can't even get the shaped briquette.
So, what is the proper moisture for briquetting?
This is different from material to material, and also have something to do with the binder you plan to use.
Here is an example:
In coal briquette making process, when using lime and clay as binder, the moisture should be between 18-20%, but when use pulp or sodium humate as binder, the moisture requirement change into 10-12%, if the binder is asphalt, the moisture even low to 2-4%!
A binder mixed briquetting process
In the roller briquette press process, the materials need to add binder before briquetting, we have different consideration for the binders, for example, if your material is too wet to briquette, we usually need to dry it, but if the moisture is not that high, we solve the problem by adding some dry binder not only for briquetting also for moisture controlling. The proportion of binder is different for different materials.
Herewith an article for you to learn more about binder: All about binders – make briquette with the proper binder
Another important thing for binder
Usually we choose binder which cost less and is easy to get, herewith some common binders which may be very suitable for you to get and use.
starch, syrup, cement, etc.
The briquette ball size
Size can be between 10mm to 110mm.
With further consideration of capacity and the briquette strength, our recommend size is between 25mm to 50mm.
The shapes of briquette

shapes from left to right (round, pillow, square, lath)
Above are some common shapes for this kind of briquette machine, we also manufacture some other special shape according to what you need.
Roller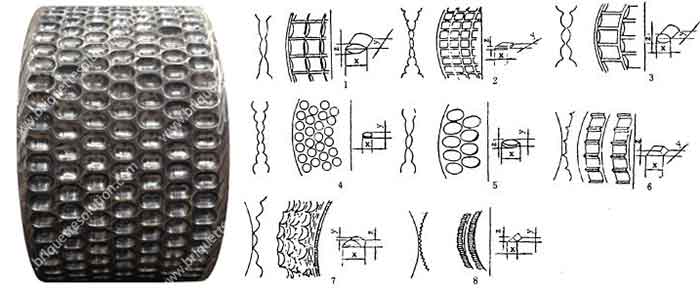 Two kinds of roller materials are usually used, 65Mn and 9Cr2Mo. The 65Mn roller is a kind of steel castings material with low cost and the 9Cr2Mo roller is high chromium alloy material which cost more but with higher wear resistance.
All of the two rollers are treated with our special heat treatment to make it with high wear resistance. For different briquette materials, you should choose roller by your condition. Generally, the 65Mn roller is used in small briquette machine with soft material, such as coal, charcoal, carbon, etc. And the 9Cr2Mo roller is usually used in the big briquette machine with materials such as mineral, iron powder, laterite, etc.
Other high standard roller materials are also acceptable according to your investment and the specific raw material you need to deal with.
Application:
Metallurgical industry. The fine of non-ferrous metals and ferrous metals can be briquette and re-smelting, such as laterite nickel ore, alum ore, manganese ore, furnace dust, steel slag, mineral waste residue, carbon black, copper powder, magnesium, alumina, iron ore concentrate, manganese ore, etc.
Coal fuel briquette making. Making coal briquettes from coal fines, coke powder, slime, and midding coal, etc, the briquettes are used in industrial boilers and civil furnaces.
Thermal power plant.  Use the desulfurization gypsum making briquette as cement retarder.
Chemical fertilizer industry. using coal dust to make briquette, instead of using lump coal, saving energy cost.
Building materials industry. The ceramic factory, glass factory and the coal- gas generator, using coal fine briquette replace the lump coal for energy cost saving.
Refractory industry. Making refractory briquette.
Every kind of industry with powder material which should be briquette and then used in the kiln.
Roller briquette press machine plant
A general single process for roller briquette press machine plant


Crusher ⇒ Silo ⇒ Mixer ⇒ Silo ⇒ Briquette Machine ⇒ Dryer
Crusher: If your material is too big, generally, a crusher must be needed, or else that will reduce the working life of the roller. Furthermore get proper size material is also a way to make well binder mixed material;
Silo: Silo is used to store the material for a smooth feeding for the next step;
Mixer: A good binder mixed material will get a high strength briquette as well as the briquette shaping rate. The water (if needed) and binder will be added here;
Dryer: You can choose vertical dryer or belt dryer according to your budget, if you have time and place to dry the briquette, you can even remove this equipment.
Plant show
This is a plant we set in Oman for a steel factory, may you learn more from the video.
Find more briquette plant solutions from the solution center, or contact us for a custom design.
Parameter
Model
Roller Dia.(mm)
Capacity(t/h)
Power(kw)
Weight(ton)
Size(m)
Briquette ball size
MTBM290
290
1-3
5.5
0.85
1.1*1.25*2
Customized
MTBM360
360
4-6
11-15
1.7
1.7*1.7*2.1
MTBM430
430
5-8
15-18.5
2.5
1.8*2*2.35
MTBM500
500
6-12
18.5-55
3.5
2.5*3*2.6
MTBM650
650
10-15
37-55
6
3.2*2.2*2.15
MTBM750
750
15-20
55-110
11
3.2*2.8*2.6
MTBM850
850
20-25
90-110
16.5
2.85*3.7*2
MTBM1000
1000
25-35
90-132
22
2.85*3.7*2
Roller briquette press machine Price:
It depends on the model you plan to use as well as the parts, for the parts, the most important here is the feeding structure and the roller type.