Fluorite briquette machine – a visit to a fluorite briquette plant
---
The fluorite briquette machine is used to form the waste powdery fluorite, making valuable briquette for further usage.
Fluorite or fluorspar, a kind mineral full of CaF2, is widely used as a flux in the steel plant, aluminum plant, cement plant and glass fibres.
After mining from the raw mine plant, these big fluorite blocks are chosen for directly use and powdery ones are left behind. Though the powdery material is also can be used in the furnace, but that cause much waste is the metal manufacturing process today.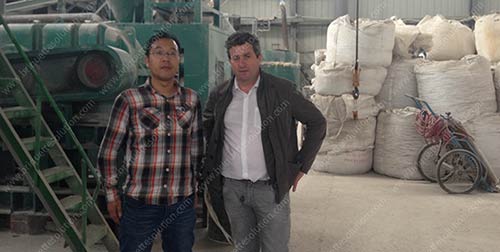 Get rid of these powdery fluorite makes us get more value from the raw material, reduce the mineral waste, and someone even finds the way to build these kinds of plants for getting a profit from this business.
The normal way of treating the powdery fluorite is briquette, using the hydraulic roller briquette press machine with well-dealt material helps to make high quality fluorite briquette.
Today, a customer from Belgium is planning to set up a briquette plant to run this business.
This is the fluorite plant we visit, it is a whole complete line with drying from the feeding section to the end output.
The fluorite briquette plant – the process and specifications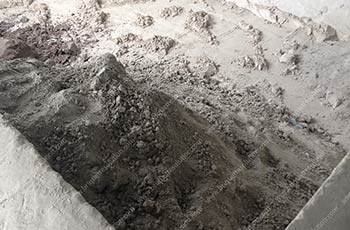 The raw fluorite powder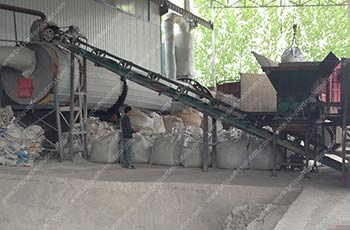 The feeding section and the
rotary drum dryer
Normally the fluorite in bulk is with big blocks, using a screen can help to pick out your ideal block and left the small ones for briquetting.
Dryer is needed to reduce the moisture of fluorite for the further briquetting process, using the hydraulic roller briquette press is sensitive to the feeding moisture, make sure the output with low moisture content.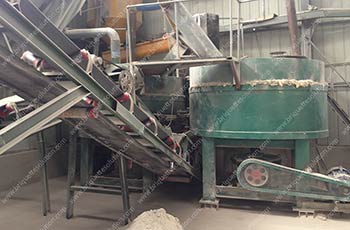 The mixer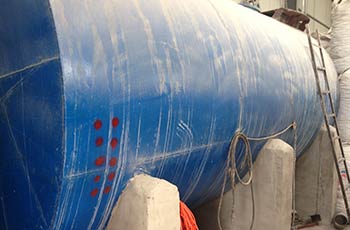 liquid binder storage tank
Better mixing effect with wheel mill mixer as the powder is full of gas inside the micro gaps between raw material, the mixer takes lots of the gas away and increases the quality of the briquette.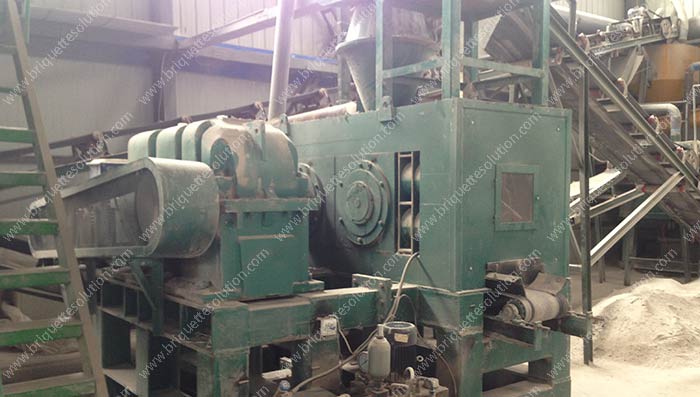 Hydraulic roller briquette press
Hydraulic roller briquette press supplies a very big press to form the powdery minerals, these powdery fluorites, after well mixed with the proper binder and dealt, is quickly briquette by this briquette maker.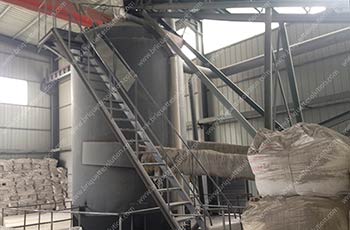 The vertical dryer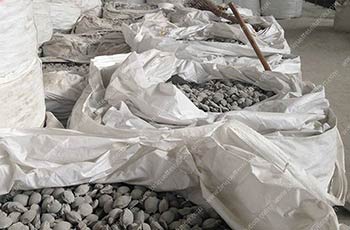 The final briquette
The briquette output from the hydraulic roller briquette press is with a low moisture but yet not with proper moisture to use, choose a vertical dryer can quickly reduce the briquette moisture to meet our demand. Alternative dryers can be the belt dryer with better drying effect but higher in investment and bigger space requirement.
Maxton is the manufacturer of fluorite briquette machine with long service life, we design the diagram for your own fluorite briquette making site, our technology and practices in this area will make your plant with smooth running and well performance.