Hydraulic Briquetting Machine
---
Hydraulic briquetting machine is a kind briquetting machine with much high pressure and mostly used to briquette the metal chips/powder. Beside the metal briquette making, it is also widely used to briquette the animal licking salt. By replacing the mold, the machine can also be used for the pressing molding in metallurgy, refractory, machinery and chemicals. The machine adopts hydraulic transmission and pressing: products with different specifications and models can be produced by the replacement of mold.
Why you should choose a hydraulic briquetting machine?
  1.  High Pressure
Hydraulic briquetting machine has a wide range of pressure for you to choose the perfect briquette as per you need. The max pressure can up to 600 tons. The highly compacted briquettes help to save much space for you, take iron as an example, the bulk iron powder density are following: cast iron scrap 2.7 g/ cm³,Short steel scrap 0.9 g/ cm³,long steel scrap 0.1 g/ cm³, compare to the raw iron scrap, the density of the final briquette can be around 5-6 g/cm³ (aluminum 2-2.5 g/cm³,  copper 6.5-7 g/cm³). You can make your waste problems, literally, a much smaller part of your business, and can improve your bottom line by reducing storage and handling costs and increasing income at the same time.
  2.  Easy mold out
For which allowed you to make your customized pattern on the briquette.
  3. Cutting fluid recovery device (optional)
When using this machine to briquette the metal scrap from the metal cutting process, residual oils and emulsions are separated and collected. This can result in coolant savings of up to 90 %.
  4. High purity for metal scrap briquette 
The machine is hydraulically powered, compresses your metals with no other materials like binders, so the quality and purity of the metal are maintained. This maximizes the value of the material.
  5. PLC control system
The PLC system leads an automatic way for you on briquette making process: feeding, lump discharging. Also you can choose the manual mode in case of a non continuous feeding.
  6. Easy customize
Customized accessories are available including valve, oil pump, . in order to meet the requirements of the specific needs. and the cooling system (air or water)also can be adjusted regards to the working environment temperature.
Materials:
Metal: aluminium, brass, copper, steel, magnesium, cast iron, stainless steel, lead, sponge iron, etc.
Other: sawdust, peat, biomass, salt, coke, ceramic, graphite, all types of slag and dust.
Material Requirement:
less than 40 mm. Of course, the smaller, the better, small materials will help to make a high density and high quality briquette.
No requirement on moisture.
Briquette Show

from left to right: metal briquette, sawdust briquette, salt briquette.
Briquette Shape and Size
Shape: common shapes are cylindrical, cubic, rectangular, also we can customize any shapes with pattern on the briquette.
Size: For round shape as reference, the diameter can between 80-200 mm , it depends on the model and mold you choose.
A Hydraulic Briquette Plant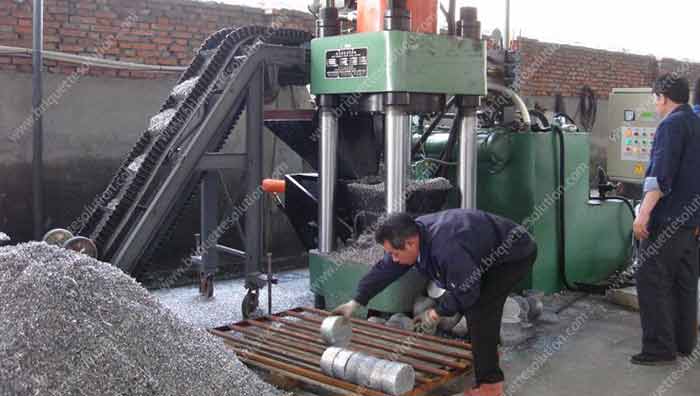 Sometimes we only use a single machine to make the briquette because of the high pressure (make the briquette without binder) and material we use(not that much materials to deal with).
You may need other machines to build a more automated briquette plant with the hydraulic briquetting machine, such as conveyor, shredder,  magnetic separation equipment, etc.
Parameter
| Model | Block size (mm) | Block density (t/m³) | Block weight (kg) | Capacity (pcs/min) | Power (kw) |
| --- | --- | --- | --- | --- | --- |
| MT32-200 | ∅80-100 | 4.0-5.2 | 2-3 | 2-3 | 11 |
| MT32-300 | ∅100-120 | 4.2-5.5 | 2-4 | 4-5 | 15-22 |
| MT32-400 | ∅110-140 | 5-8 | 3-5 | 4-5 | 22-30 |
| MT32-500 | ∅120-150 | 4.5-5.5 | 5-8 | 3-5 | 30 |
| MT32-600 | ∅130-160 | 4.6-5.5 | 6-9 | 3-4 | 30-37 |
Note: the parameter with material of iron ore for reference, different material will be with different density and capacity.